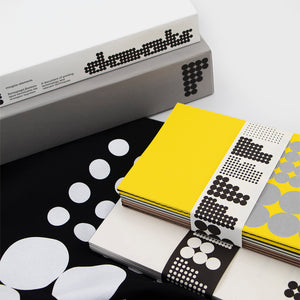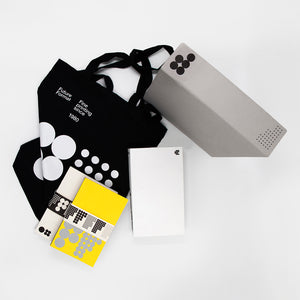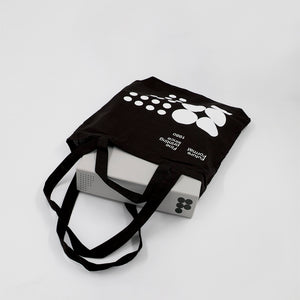 or how to survive a typographic apocalypse.


Each kit includes: 
1 Elements book, a set of 3 notebooks, a set of 2 notepads, 1 archival box and a tote bag.
In detail:
Our iconic publication, Elements, is a thorough documentation of printing terminology.
Embossed dust jacket on Takeo paper, sewn binding, brilliant papers. Munken Print White -115gsm, Arctic Volume High White, Colorplan Factory Yellow and Extract Khachi 380gsm, composing 408 pages of typographic love.
Our-pun intended-boxy archival box.
2mm cardboard paper, dressed in Colorplan Real Grey.
Dimensions: 25,8x33,8x6,2 cm
A set of three blank notebooks. 
Sewn binding on three different covers, Colorplan Factory Yellow, Colorplan Harvest and Colorplan Mid Green.
24 pages of Munken Print 115 gsm, soon to be filled with outstanding design drafts and ideas.
Dimensions: 13x21 cm
A set of two notepads.
25 pages of colorplan Natural to host your desk notes and your while-I'm-on-the-phone doodles.
Dimensions: 14,8x21 cm
A Future Format tote bag.
Because your Future Format goods deserve a really outstanding tote to be carried around.
White Silkscreen on black cotton.